Jan Kjellström
International Festival
of Orienteering 2020
North East England
10th April - 13th April
JK 2020 cancelled
Update posted 24th April:
All merchandise orders were posted by 18th April, and should be delivered w/b 20th April. We have a few extra O Tops and Event Clips which you can either order, or if the O Top size you ordered doesn't fit we can swap - see the Merchandise page.
Update posted 15th April:
After much deliberation in NEOA, we have concluded that we will NOT be making a bid to reschedule our JK to Easter 2021. There were various reasons, mainly:
Uncertainty over when coronavirus restrictions might be lifted
Some known potential barriers to just rolling everything over (some specific permissions, arena fields, possible forestry work, etc.)
Those two things combined meaning we can't get out and about to attempt to resolve those problems, and / or resort to possible fallback areas, with enough confidence to proceed with an event at the scale of the JK.
Wanting to make a decision as early as possible (i.e. now) to give SWOA all the runway they need to proceed with certainty for JK 2021 in Cornwall.
Instead we intend to make the best use we can of the already planned courses and logistics at lower key events. Provisional plans (although all are still to be confirmed in due course):
Sprint (Stockton) – Reuse at an already scheduled CLOK regional event at Stockton on Sept 6th 2020 (assuming restrictions sufficiently lifted by then).
Middle (Sneaton West) + Long (Pickering Forest) – Reuse on the weekend of 27/28th March 2021, when CLOK already have a national event scheduled (both sets of courses will need some replanning to adapt to a smaller scale event e.g. different parking/arena in Sneaton, and fewer than 3 separate starts in Pickering, but not too hard).
Relay (Skelder) – Reuse as relay for JIRCs 25/26th Sept 2021 which are due to be in NEOA (alongside another area the other day).
I'd like to thank everyone for their continued support while we made a decision here. It is now over to SWOA to proceed with plans for the JK at Easter 2021 and we wish them every success.
Duncan Archer, JK 2020 coordinator
---
Update posted 13th April:
It was now Easter Monday, and we would have all been enjoying an Easter weekend of fantstic racing in dry weather, and at least two days of glorious sunshine. A few updates:
1. Refunds - These should all have been made by now. Let us know if you haven't received yours back to your original payment card.
2. Orienteering Foundation donations - See the Orienteering Foundation's news article about these, and their "Back to Orienteering" fund here.
3. Merchandise - Orders have been dispatched to those who just ordered Event Clips (should arrive this week, if not already). We are still waiting for the O tops to be delivered - as you might imagine, they have a few delays in their supply chain. We'll dispatch as soon as we have them.
4. Rescheduling - We are continuing to explore our options, watch this space.
---
Update posted 30th March:
1. Thankyou - Thankyou for the many messages of support following our cancellation, and feeling for all the officials and volunteers who had put so much into the event already. It is much appreciated.
2. Refunds - Several people have asked when they should expect to receive their refund. As the original cancellation notice below said: "We will make refunds within 3 weeks - please bear with us." That was posted on 16th March so that means refunds by around 6th April. We appreciate this is a difficult time for many people financially. It is also a very busy time for those administering the refunds, with literally 100s of events being cancelled.
3. Orienteering Foundation donations - Thankyou to everyone who either donated as part of their pre-entry, or chose to donate their refunded entry fee. The former raised £870, the latter raised £2734, and together when Gift Aid has been claimed where possible we'll have raised over £4000. The Orienteering Foundation will be posting an update on their website with more details in due course.
4. Merchandise - As the original donation notice said (below), orders will be posted out in due course. We are still waiting for the O tops to be delivered.
5. Rescheduling - Thankyou to everyone who has made suggestions. No firm decision has been made yet, and we continue to explore our options, including rescheduling to Easter 2021, or reusing the coures at lower key event(s) in the autumn. Easter 2021 has knock on effects on other events (some of which cannot be moved), and it is far from certain if we could confirm such dates for a major event right now, with the ongoing Coronavirus situation which would make it very hard to secure bookings from landowners and suppliers. We plan to take another checkpoint in 3 weeks' time, in consultation with British Orienteering.
---
Cancellation notice posted 16th March:
As you are aware, since the coronavirus (COVID-19) outbreak we have been closely monitoring the situation and trying to understand its impacts. The JK organising team, in discussion with British Orienteering, have now taken the decision to cancel JK 2020 at Easter.
There are several reasons why we feel this is the right decision including:
The government direction now to avoid non-essential social contact and unnecessary travel, and the possibility of "stay at home" advice for over-70s at some point soon. (That was the advice when we cancelled, and it has since become even more stringent for everyone)
The sole landowner for the relays has already revoked permission, and a crucial landowner for the sprint has warned they may do the same.
The restrictions on international travel already in place affecting a significant number of overseas participants (10% of our participants have already cancelled of their own accord, many from overseas).
The potential impact of the virus not only on entrants, but also our extensive team of officials, team leaders, and other volunteers, without which an event the size of the JK could not go ahead.
The possibility that one or more of our critical suppliers e.g. toilets, vehicle tracking, first aid etc. is affected by the virus and cannot deliver their services, or that another landowner pulls out - any of which could jeopardise the event right up to the final hour.
Our desire to take firm action now, giving competitors as much time as possible to cancel their own accommodation and travel plans if they wish.
This is a cancellation, and we will make refunds as described below. There is no option to carry over entries to a future event. We will be exploring options to reuse the already planned courses at a later date (either as a major event or something smaller) - if we do that we would take new entries independently if/when the time comes.
So what happens next?
Merchandise has already been ordered, and any purchases will be posted to entrants in due course (the main O top delivery is expected to arrive shortly before Easter).
Orienteering Foundation donations made as part of entries will be passed on to the Orienteering Foundation. We believe that those who have donated will be happy with this, despite the JK being cancelled. If not, please let me know.
Any individual entries, minus Merchandise payments and Orienteering Foundation donations, will receive a 90% refund to the original card on which the payment was made. We are retaining 10% to cover some of the already committed costs, but British Orienteering will still be covering a siginficant loss on the event.
Alternatively, we offered the option to donate your refunded entry to the Orienteering Foundation. This was entirely optional and if you did nothing you will receive the 90% refund as above in due course. We are hugely appreciative of everyone who donated. If you didn't manage to edit your entry in time, but would still like to donate, you can do it directly via the Orienteering Foundation website above.
Any relay entries, will receive a 100% refund to the original card on which the payment was made. This recognises that there have been very few relay entries to date, and not wanting to penalise the few clubs that entered before now.
We will make refunds within 3 weeks - please bear with us.
I would personally like to thank the many volunteers who have put in significant effort already towards staging the JK. The event is a major undertaking for any region, consuming many hours of volunteer time, and it is hugely disappointing not to see the fruits of that labour.
Duncan Archer (CLOK)
JK 2020 Coordinator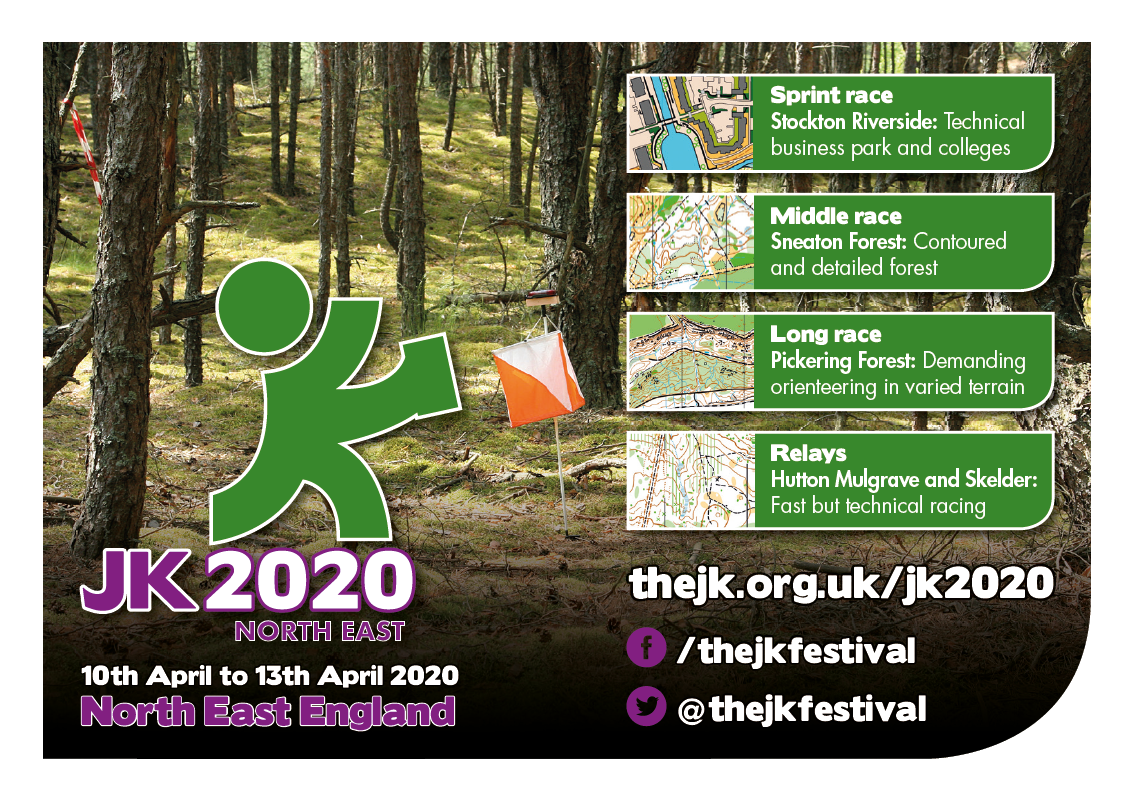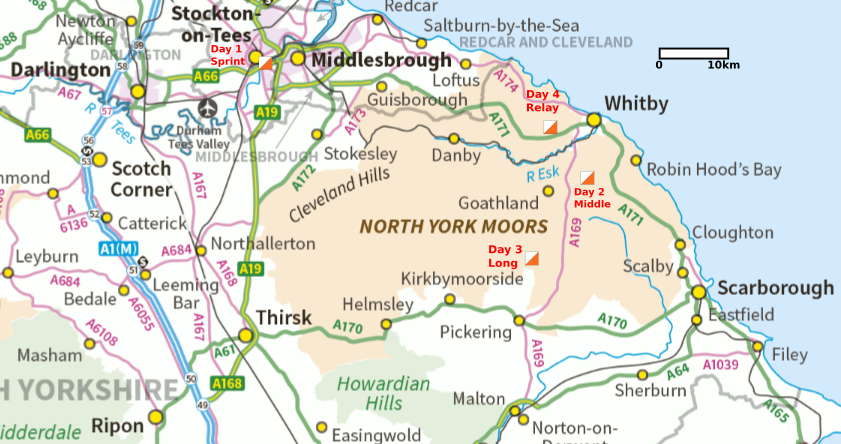 Date
Fri 10th April 2020
Sat 11th April 2020
Sun 12th April 2020
Mon 13th April 2020
Format
Day 1 sprint
Day 2 middle
Day 3 long
Day 4 relays
Area
Stockton Riverside
Sneaton Forest
Pickering Forest
Hutton Mulgrave and Skelder
Organisers
Brian & Tricia Davies (NATO)
Alastair & Caroline Mackenzie (CLOK)
Boris Spence (NN)
Mike Edwards (RAFO)
Planners
Francis Shillitoe (NATO)
Alasdair Wilson-Craw (NATO)
Paul Taylor (CLOK)
Chris Mackenzie (CLOK)
Rob Bailey (CLOK)
Chris Poole (CLOK)
Chris Wright (CLOK)
Controllers
David Rosen (SROC)
Chris Burden (AIRE)
Keith Tonkin (BL)
Tony Thornley (AIRE)
WRE / IOF event advisers
David Rosen (SROC)
Ted Finch (FVO)
Rob Hickling (BASOC)
N/A
A map of the embargoed areas is available here. Until we decide whether to make use of the already planned courses, the areas remain embargoed.
Any attempt to survey or train in the competition terrain is forbidden, unless explicitly permitted by the JK coordinator. However - for the sprint area - it is permitted to drive along the roads through the area (such as Council of Europe Boulevard, University Boulevard, Harvard Avenue, Princeton Drive, Tees Barrage Way) prior to the day of the competition. It is also permitted to compete in organised road races or similar with marked routes through the area, such as the Simplyhealth Great Tees 10km and the Stockton Duathlon festival.