Jan Kjellström
International Festival
of Orienteering 2020
North East England
10th April - 13th April
The JK 2020 has now been cancelled at Easter. Please see the full statement on the home page.
---
Day 4 (relay) - Monday 13th April - Hutton Mulgrave and Skelder
Arena: Skelder Hill Farm, YO21 1SZ, grid reference NZ 846 091.
Parking: In fields 0-300m from the arena.
Campervans may park on site on Sunday night only, and indeed are encouraged, to avoid the relay morning rush. Minimal facilities: Portable toilets and drinking water taps available, no bins (take your rubbish home). Cars and camping not permitted.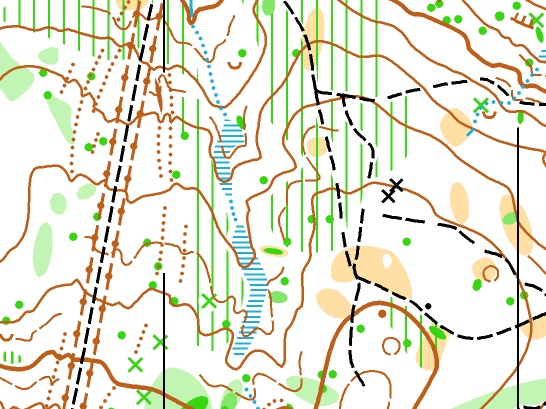 Terrain: Skelder contains fast natural deciduous woodland, with subtle contours and few paths. Hutton Mulgrave is mixed forest, with track system, and contour and rock detail
Map: 1:10,000, 5m contour interval to ISOM 2017, updated by Paul Taylor. Class J (210+) has 1:7,500 scale. Previous map here.
Classes (pre-entry only):
A - JK Trophy
B - Women's Trophy
C - Men's Short
D - Women's Short
E - Senior Men (combined class ages 120+)
F - Senior Women (combined class ages 120+)
G - Veteran Men (combined class ages 165+)
H - Veteran Women (combined class ages 165+)
J - Ultra-Veterans (combined class ages 210+, with +10 for each woman)
K - Intermediary Men (combined class ages 48-)
L - Intermediary Women (combined class ages 48-)
M - Junior Relay (combined class ages 40-)
N - Mini Relay (M/W12-)
P - Mixed Ad Hoc - any men or women from same or different clubs
Running orders will be as follows (as per the rules):
Classes A, B, C, D, E, F, G, H, J - Long, Short, Long
Classes K, L - Green, Orange, Green
Class M - Orange, Yellow, Orange
Class N - Yellow, Yellow, Yellow
Class P - Green, Short Green, Orange
Classes J, M, N and P may be mixed gender teams (with additional age class allowance for women in class J). Classes B, D, F, H, L are for women only teams. Other classes are typically male teams, but may also be mixed gender.
Full details of the classes and rules can be found here.
Mass starts: From 10:00.
Prize Giving: The JK relay prize giving (all classes) will take place at 13:00. Prizes will be awarded to 1st, 2nd and 3rd team in each of the classes (including Mixed Ad Hoc).
Dogs: Permitted in the arena and car parks but not on the courses (except for registered assistance dogs which are allowed by competitors that require them). We ask that if you bring your dog that you keep it on a lead and clear up after them.
Officials:
Organiser: Mike Edwards (RAFO)
Planner: Chris Wright (CLOK)
Controller: Tony Thornley (AIRE)