Day 1 (sprint) - Friday 2nd April – Plymouth Hoe
COVID-19: the text following on this page describes the event with no restrictions. As the UK pandemic position becomes clearer the detail may change.

The area outlined on the overview map is embargoed for runners wishing to compete in JK2021, until the competition is finished. Any attempt to survey or train in the competition terrain is forbidden, unless explicitly permitted by the JK Coordinator. However, it is permitted to drive along the roads through the area prior to the day of the competition.
Event HQ; is the ballroom of the Crowne Plaza Hotel Armada Way, Plymouth, PL1 2HJ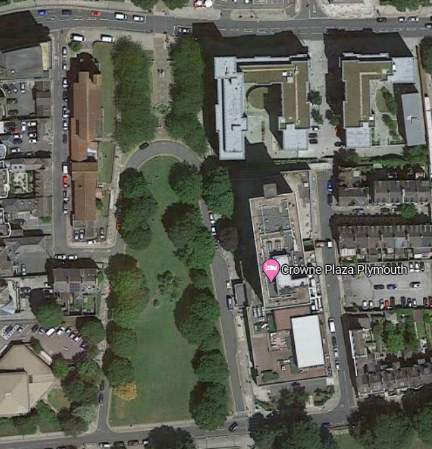 Parking: There is no parking on site although there are numerous surface and multi-storey car carks close by.
Terrain: Plymouth Hoe is a large south-facing open public space. The Hoe is adjacent to and above the low limestone cliffs that form the seafront and it commands views of Plymouth Sound. The Barbican and Sutton Harbour feature cobbled streets, a picturesque harbour and wealth of independent shops and restaurants. You might come across the Mayflower Steps on your course too. The Hoe is also home to the striking red-and-white striped former lighthouse, Smeaton's Tower, the art-deco, open-air swimming pool Tinside Lido and a number of statues and memorials.
Map: 1:4,000 and 1,3000, 2.5m contour interval to ISSprOM 2019, updated by Roger Hargreaves. Previous map at https://www.devonoc.routegadget.co.uk/rg2/#109.
Championship classes (pre-entry only):
M/W 10, 12, 14, 16
M/W 18E, 20E, 21E
M/W Open (non elite)
M/W 35, 40, 45, 50, 55, 60, 65, 70, 75, 80, 85, 90
Non-championship classes (pre-entry and entry on the day):
Starts: 12.00 - 15.30. There will be two starts, both less than 100m from the hotel.
Clothing: Shorts and running vests permitted.
Prize Giving: JK sprint prize giving will take place on day 2 after the middle race. Prizes will be awarded to 1st, 2nd and 3rd in each of the age classes.
Dogs: Permitted near the finish but not on the courses (except for registered assistance dogs which are allowed by competitors that require them). We ask that if you bring your dog that you keep it on a lead and clear up after them.
British Orienteering AGM: TBA.
Officials:
Organiser: Rod Allday (KERNO)
Planner: Gavin Clegg (BOK)
Controller: Simon Thompson (HOC)